Line Pressure Regulator Basics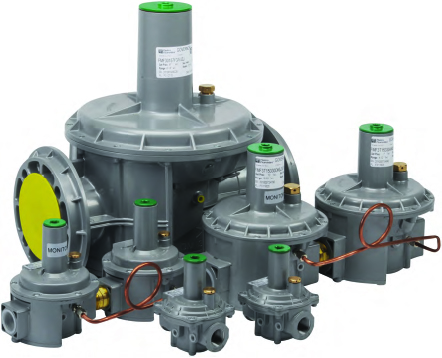 A pressure regulator is a control valve that reduces the input pressure of a fluid or gases to a desired value at its output.
ANSI Z21.80/CSA 6.22 is the standard for line pressure regulators suitable for operation with natural, manufactured, and mixed gases, liquid petroleum gases and LP gas-air mixtures.
Pietro Fiorentini's GOVERNOR line of gas regulators comply with the latest CSA and international standards for regulators suitable for indoor and outdoor installations with no modifications, which makes them ideal for a wide range of residential through large industrial applications.
Safe, Reliable, and High Performance
Ideal for a wide range of applications, all PF400 regulators can achieve high outlet pressure accuracy regardless of Inlet pressure variation. The external vent limiter reduces piping costs and the need for costly vent piping for indoor installations and complies with CSA guidelines.*
CSA certified external vent limiter option for indoor installations*
Both vertical and horizontal installation positions
Complete lockup in absence of gas flow, 100% bubble tight shutoff
Designed to be used on furnaces and simple on-off loads
PF400 Dual Cut
* As Approved by Local Codes and Standards
A New Perspective to the Regulation of Natural Gas
The Pietro Fiorentini Governor gas regulator brings a new perspective to the regulation of natural gas.
CSA approved integral vent limiter eliminates the need to run vent lines* for ½" through 2" regulators
Balanced Valve Design
High Accuracies and turndown
High Capacities